H Beams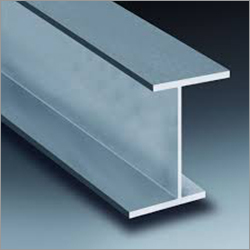 H Beams
Product Description
H Beams
Our dedicated professionals continuously work in order to provide the best quality H Beams. The offered beams are manufactured by our vendors using supreme grade materials in accordance with defined industry norms. Widely demanded for supporting the materials in construction places, it ensures easy installation. Moreover, these H Beams are properly tested on diverse measures to ensure their best quality at customers end.
Steel H beam, is an economical section and efficient profile. Because its cross-section is the same as the letter "H", it is called H beam. The H beam welding splicing is simple - than steel "I" beam. It has better mechanical properties per unit weight, and can save a lot of material and construction time.
In the H beam, the medial of two outsides has no Slope it is flat. Also the 'flange' there is no inclination of the inner surface of the flange - the upper and lower surfaces are parallel. The distribution of cross-sectional area is more optimized, and the ratio of strength to weight is more reasonable.
Features:
Accurate in dimensions

Abrasion proof

High durability
PARALLEL FLANGE BEAMS:
UB 203 mm x 133 mm to 610 mm x 229 mm
NPB/IPE 180 mm x 90 mm to 600 mm x 220 mm
WPB/HE 600 mm x 300 mm to 900 mm x 300 mm
COLUMNS:
UC 152 mm x 152 mm to UC 356 mm x 368 mm